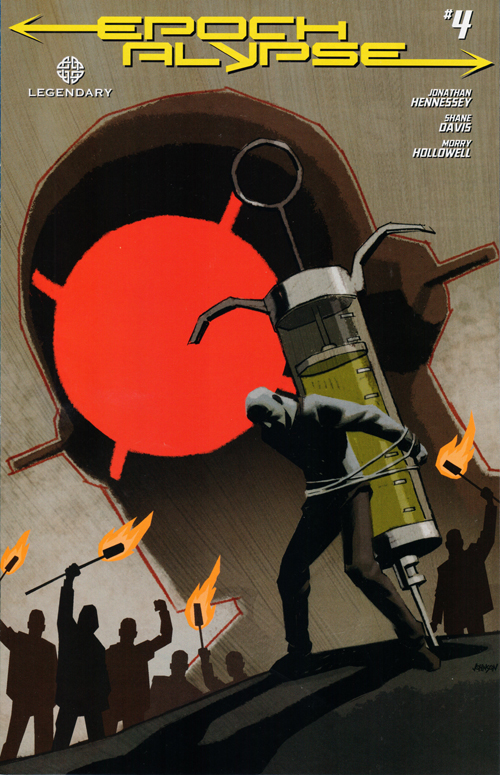 Facing a "dilemma" doesn't just mean grappling with a serious problem. "Dilemma" is a specific word with a specific meaning. It's when someone is forced to pick between two equally unfavorable alternatives.
That's precisely where Johannes stands as Issue 3 crosses into Issue 4. In this episode, entitled "Fault Zones," Johannes must determine between playing passive eyewitness to an innocent man being burned alive — or risk the grim odds of trying to save the torture victim from an armed-to-the-teeth band of highwaymen. The latter option would surely put our hero's life and those of his subordinates on the line.
And when decision time comes, none of the other Resynchronizers can quite believe the choice Johannes — commonly half celebrated/half disparaged as "Mr. Empathy" — makes.
Also in Issue 4 we get a troubling yet tantalizing glimpse at the wider conditions of "The New Now." What have we seen of the characters' world so far? A wooded, rural crossroads. The town of Greylock Furnace, where a few thousand Incongruity survivors have made homes among the ruins. The shimmering compound of the Trustees that would seem to prove that all is not yet lost. But in the middle of "Fault Zones," we take you to the very frontier of all that you have laid eyes on before. And it won't be spoiled here. But the truth ain't pretty. (And what we learn about the mysterious Garrison Evers' fellow Trustees is further… Well, let's call it cause for concern).
Nearly everyone in The New Now has secrets. Last time out, we learned that Ramona is hiding some unspeakable emotions and impulses from her deeply conservative mentor, Mary-Fran McBride. (A woman who is harboring her own portfolio of hypocrisies). But in Issue 4 it will be revealed that Johannes, in rare off-hours from his mission tracking The Salesman, has a secret life of his own. And plenty of bitter rivals who would love to catch any "slip" our hero might make.
Everything that takes place in this episode paves the way for the most audacious and dangerous plan the Resynchronizers have undertaken yet. And the equally audacious and dangerous act of sabotage that might bring the curtains down on them once and for all.
Art (inclusive of some smashing vehicle designs) by Shane Davis and another bracingly cinematic cover from Dave Johnson! Color art by Morry Hollowell. Letters by Patrick Brosseau.
Epochalypse #4's release date is February 18, 2015.