"The assassin chose well the object of his stroke," preached Pastor Charles Caroll Everett one hundred and fifty years ago today, in Bangor, Maine. "With one blow he pierced every loyal heart."

Everett was delivering a sermon on an Easter Sunday unlike any other. It was the day after Abraham Lincoln was murdered by the infamous John Wilkes Booth.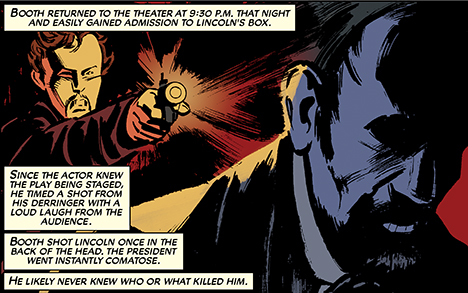 The timing of the assassination was all the more beguiling because it came at a moment when the Civil War was rapidly winding down.

Less than a week earlier, Robert E. Lee had surrendered his Army of Northern Virginia to U.S. Grant at Appomattox Court House. There was no strategic, tactical, or political advantage for Booth and his often-overlooked co-conspirators to gain for themselves or the side of the conflict which with they sympathized.

Even Jefferson Davis, President of the Confederate States of America, then on the run in North Carolina, was bitterly vexed to hear the news. The sobered Davis opined that the consequences of Lincoln's death "will be disastrous to our people, and I regret it deeply."

Even many of the Confederacy's harshest critics withheld from pinning the assassination on the South or its people. To Pastor Everett, Booth's hand had been guided by the monstrosity of the institution of slavery — a pawn in the hand of an institution so evil that it had taken on the qualities of an animating spirit, manipulating people and politics in a bid for its own survival.

Indeed, Booth was no more or less than an egomaniacal domestic terrorist. It's difficult to dismiss as coincidental the fact that Timothy McVeigh, when arrested for the bomb attack on the Murrah Federal Building in Oklahoma City on April 19, 1995, was wearing a tee shirt with an image of Lincoln and a printed reprise of Booth's acid and preposterous words, "Sic semper tyrannis."

There are many bracing and thorough accounts of Lincoln's assassination and its aftermath. But I will make the claim that few cover as much ground in so short a time as this below chapter excerpted from The Gettysburg Address: A Graphic Adaptation.
Though brief, it touches on some lesser-known facts about the assassination like the controversial Dahlgren's Raid that preceded and possibly provoked the event, as well as the actions of Booth's cohorts as they attempted to decapitate the entire power structure of the executive branch of the federal government.

If you like what you see, The Gettysburg Address: A Graphic Adaptation tells the entire story of the Civil War with the same eye towards both comprehensiveness and intriguing detail. The book remains for sale wherever you like to buy books, like Powell's, Amazon, Barnes & Noble, Indiebound, or Books-A-Million, including a color edition for your Kindle or ebook reader.

So you're an educator? Please get in touch to discuss the possibility of receiving a free edition for your review.