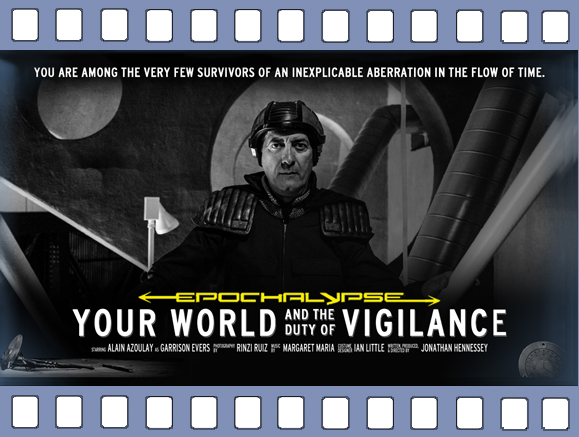 If you have been reading my dark-twist-on-time-travel series Epochalypse, or perhaps even the trade paperback graphic novel edition collecting Issues 1-6 that's available now, you may remember a certain sequence from the second chapter.
In this world, something has made 600 years of history collapse into a single timeline. And an embattled new leadership has arisen from the ruins: a mysterious cabal called The Trustees.
The Trustees are revealed to have produced a kind of educational newsreel. One meant to orient the time-disaster's few survivors—people who might come from as far back as 1600 A.D. and as far into the future as 2200 A.D.—as to what has happened, and what is expected of everyone if history is ever to be set right again.
I am excited to announce that I have taken the short, comics version of that orientation newsreel and extrapolated it into an entire short film.
"Epochalypse: Your World and the Duty of Vigilance" is a creepy yet thought-provoking piece of stand-alone science fiction experimental filmmaking. It doesn't just set forth the bare basics of the concept behind Epochalypse, but also takes it much further with revelations about the world these characters inhabit and where the story might yet go.
And yes, it's all stylistically done in an homage to one of the greatest sci-fi short films of all time: Chris Marker's unforgettable and influential 1962 piece "La Jetée."
Find it effective? Please like. Please share.
It has been quite a while since I have made such an extensive video piece. Really giving away my age if I discuss the details, in fact. Last time I worked with super 16mm film, linear editing, no manner of internet distribution whatsoever… And it's nothing short of amazing to see how much you can now do, and how flexible you can be, with some decent computing power.
If nothing else, you are invited to take a look for the sensational photography of Rinzi Ruiz, a supremely talented L.A.-based street photographer who was willing to do something quite different from his usual artistic approach. I discovered Rinzi because his black and white pieces had an incredible capacity to start with shots of places that I already knew and "take us to that other place." (As David Lynch has said about the power of black and white).
For the record, I also can't say enough about the acting of Mr. Alain Azoulay, who just "went for it" with every take, shouldered every little production inconvenience like it weren't no thing, and allowed us to capture a massive span of expression and feeling through the lens. His Garrison Evers is intimidating, commanding, authoritative, but also clearly a man capable of feeling deep empathy and pain.
And another discovery was the music of Canadian cellist/composer Margaret Maria Tobola, who is doing things with her cello than I cannot even understand, but which slip into the subconscious unheeded… And immediately begin having their own way with your emotions. I wish I had a sharper and more educated musical vocabulary to even begin to address it.
Seriously. Go to her Soundcloud right now.