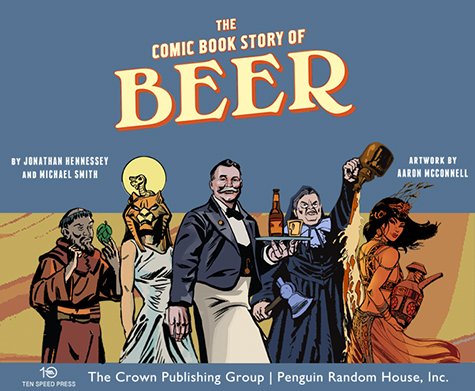 Several years ago I walked into Mayflower Brewing Company in Plymouth, Massachusetts, to visit a dear friend who had gone to work as head brewer there. Mike Smith graciously propelled me into an unforgettable brewery tour. It left me reeling with how ignorant I had been both about the making of beer and, more importantly, its place in the culture and chronology of man on this planet. Plymouth itself occupies a pivotal place in American History (even if very few people actually understand it). And, tangentially, Plymouth also bears a certain significance upon  beer history. The Pilgrims were driven to choose that stretch of Massachusetts coast for their colony because their precious reserves of beer on board the Mayflower were running dry.
It's one thing to cultivate such a thorough command of the technical aspects of brewing. It's another to become a walking encyclopedia of all the legend and lore that accompanies beer's seven millennia story. And yet it's an even more commendable confluence of talent and experience to be able to communicate that knowledge in an effective, casual, and colorful way.
But on August 20, 2010, Mike proved to me that he had that talent and experience in spades.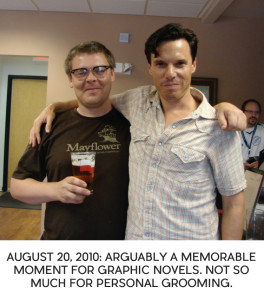 Now five years, one month, and some sustained convincing and cajoling later, the inspiration that Mike whipped up during that workaday brewery tour has transformed into a 170-page graphic novel: The Comic Book Story of Beer. It follows the development of beer from all that scholars can hypothesize about its prehistoric roots, to when its existence actually enters the historical record (approximately 7000 BC), to the craft beer movement of today—which is, in some important ways, simply a return to form for pre-Prohibition America.
The book goes on sale nationwide on September 22. You can get a little more of a sense of it by checking out this book trailer below:
A highly decent amount has been going on with the book in the weeks leading up to publication, including media pieces from NPR, Huffington Post, and Publisher's Weekly. And not only is more to come, but also Mike and I (and in some cases with Aaron too) are embarking on a book tour taking us from The Great American Beer Festival in Denver (to which we have been honored to be invited) to New York City Comic Con. We are hitting many of the great cities in the Heartland and Midwest (as well as Toronto, Canada), and beyond. We hope to see you at one of these events!
Please check out the dedicated website for The Comic Book Story of Beer (thecomicbookstoryofbeer.com) for all related business and follow The Comic Book Story of Beer on Twitter!