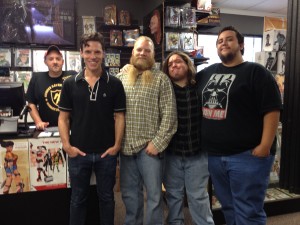 With all (or maybe no?) apologies to Belinda Carlisle, this is my time to thank the staff and customers of the great Heroes' Haven Comics in Tampa (Carrollwood), Florida, for taking the time to check out Epochalypse on New Year's Eve.
Man, what a store. Exceptionally well-curated, this is one retailer establishment that shows real pride of ownership in every detail. Punitive rents out where I live make it hard on the small businessman to keep as sprawling an emporium of modern mythology as this one.
The best thing about the visit was experiencing the following auspicious and astrologically correct alignment of stars. A shipment of Epochalypse #2 had preceded me. And it was therefore possible to share this important anchor issue with the people.
I'll be leaving the West Coast of Florida for the West Coast of the U.S. all too soon. Thanks again to everyone who stopped by, and to Ivan Plaza and the rest for hosting.