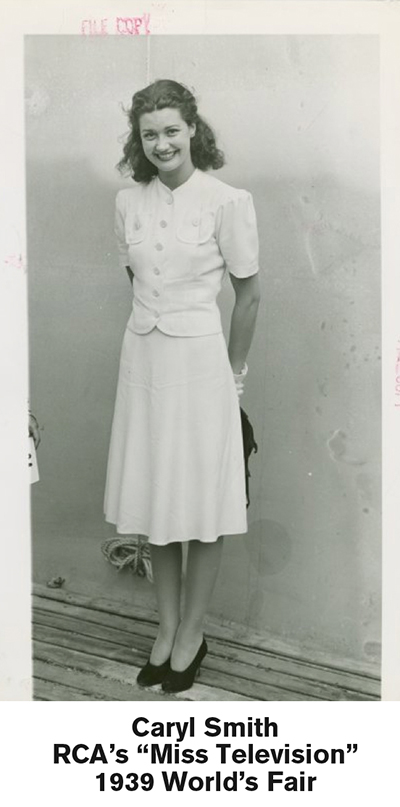 Beauty contests may be as passé as the slide ruler or the horse and carriage. But a killer smile never goes out of fashion. And so I thank the late Caryl Arlene Smith-Givens — who was crowned "Miss Television" at the 1939 World's Fair — for being the highest spike of the Charm-O-Meter in an already intoxicating collection of New York Public Library digital images.
I am currently deep in the research and writing phase of a new nonfiction graphic novel project, an exciting follow-up to The Comic Book Story of Beer. This one will also be published by Penguin Random House imprint Ten Speed Press. And it's currently scheduled to be released in 2017. Having exhausted the great Aaron McConnell with nonfictional work, I'm collaborating on this one with a talented and hot new artist. (And when you see him in person, you won't help but note that I happen to mean that in both senses of the word. Since I say this as a straight man, it should be taken as no small compliment.)
I will be unveiling the details of the new nonfiction project soon. Suffice it to say for now that, like beer, this one covers a widely celebrated and nearly ubiquitous cultural passion—one whose historical "hood," so to speak, few people have bothered to pop up to see what's underneath. And whoah, what's underneath! I am loving the learning I've been doing in this area.
The topic is not television. But it shares quite a bit of history with television. And as I've alluded to, the research recently sent me looking into the 1939-1940 World's Fair in New York City. The so-called "World of Tomorrow." Which unfolded not far from where I used to live, in Long Island City (or Astoria; it's debatable) Queens, just as New York City was dragging itself out of its 1970s/1980s high crime rate doldrums.
Since I'm something of a popular historian who, in addition, has also written in the time travel genre, people often ask me where I would go if I had the chance to time travel myself. I haven't always had a great answer at the ready. But man do I have one now. If I could spend a week in another place and time, at least as I write this, that answer is wholeheartedly at the 1939 World's Fair.
For one thing, I'm a sucker for Art Deco architecture and design. Some of the best living examples I've personally seen include the hotels in South Miami Beach, the Texas State Fairgrounds in Dallas, the Manhattan landmarks like the Chrysler Building and Rockefeller Center. Yet the 1939 World's Fair was chockablock with Art Deco, of course, almost all of it now razed and existing only as memories.
It's also fascinating to ponder how just as this bright, hopeful, forward-looking, progress- and capitalism-minded bacchanal was playing out in Flushing Meadow, the rest of the world had already slipped into World War II. And Americans were split between those clamoring for intervention and a strong, vocal bloc who didn't see the need for the U.S.A. to get mired in further foreign entanglements. The finer points and Whose Who of that debate is still something I could use a few lessons on, and it's totally intriguing.
As captivating as it would be to walk around and people-watch in this upbeat and all-American, paleo-futuristic wonderland, that could only be accompanied with the constant, sharp pang of being a Cassandra of Greek mythology—knowing the future but being unable to prevent it.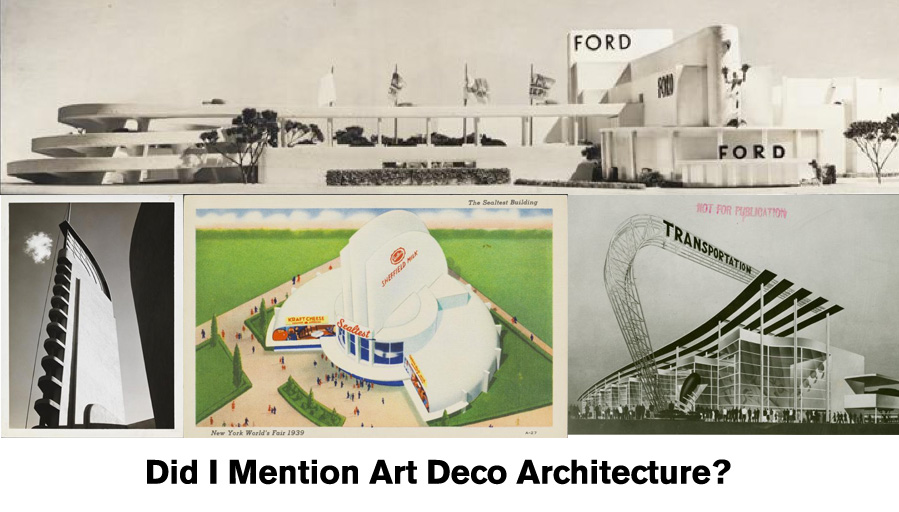 Anyway, one of the key takeaways of this World's Fair is that it encompassed many Americans' introduction to television. Courtesy of RCA, the Radio Corporation of America.
It's the habit of Americans to think we're the globe's earliest early adopters in technology and entertainment. But in fact by this point Great Britain had under its belt several years worth of regular broadcasts—and many more active television sets than Americans possessed. In fact, BBC dignitaries watching RCA cameramen at work shooting on-location live footage at the fair (and broadcasting it to a few hundred sets around the city, including clusters in their dedicated pavilion at the fair and an outpost at Radio City Music Hall) were unimpressed by their technique. Too many locked-off tripod shots. Too few angles. A big emphasis on tech rather than on style. (But that doesn't sound like the American Way, does it?)
One publicity stunt RCA pulled to try to draw interest in television was holding the aforementioned "Miss Television" beauty contest.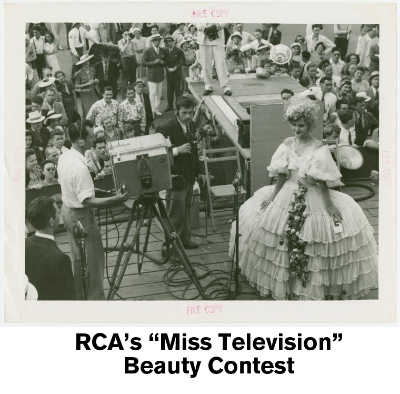 I don't know if 1939 was the high water mark of heteronormalcy, but it was up there. And I can't quite shake a certain, grafted-on sense of nostalgia when I see images from yesteryear's many beauty contests. So I couldn't help clicking on the contest winner's smile when I came across it in this truly extraordinary New York Public Library digital collection of items relating to the World's Fair in question.
Unfortunately, the collection didn't contain a particle of information on who this young lady was or what became of her. Over the years my researching skills have sharpened something considerable, and I thought it would be worth a short digression to see what I could dig up on this Yankee Doodle Sweetheart. One of my favorite things is to stumble onto some popularly overlooked personage from bygone times and build some kind of minor tribute to them in a writing project. It's a humbling exercise in accepting the obscurity most all of us are destined for. But it's also an inspiring way of discovering history and getting down to the granular level of the times one is studying. It's also fun to think that some historian in the future could pluck some contemporary from the archives and do the same thing. This imparts some poetic sense that maybe no one will really be forgotten.
Turns out Caryl Smith was born in Portland, Oregon, in 1916. (She died in 2014, just short of 100). And the natural charisma that seems to exude from her photos apparently paved the way for her to be interested in acting and public speaking. She actually moved to New York with the whole idea of getting a job at the fair and pursuing the Big Dream of acting. (Just like so many here in Los Angeles, and, blessedly, never me.)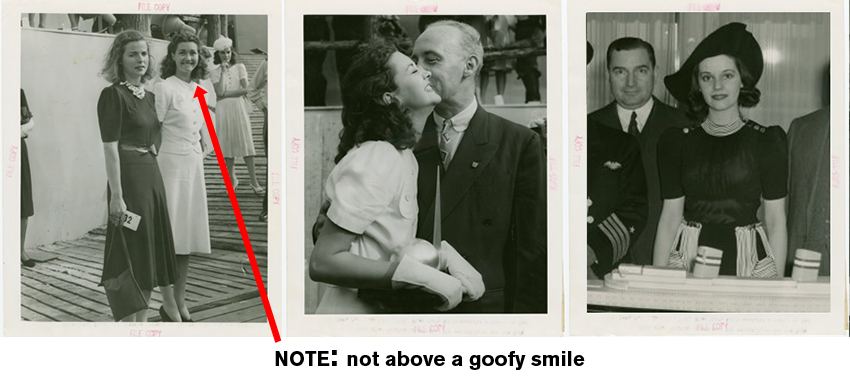 The Miss Television contest was only open to women who worked at the fair, and it was apparently a 3-day affair that took some time to work down to Ms. Smith.
It's hard to imagine this honor doing anything but convincing the young actress that she would be launched into the stratosphere of the entertainment world. And Ms. Smith did, in the nothing-to-sneeze-at career that followed, rub elbows with some greats. She studied acting under acclaimed, Tony award-winning Broadway and West End actress Gertrude Lawrence who originated the Anna character in The King and I. And Smith also voiced some Disney characters (including Snow White) on radio productions and acted on stage in Orson Welles' Mercury Theater Company. She had what looks to have been a long marriage and several children after moving to the West Coast after WWII, but she ended up in what she referred to as her "spiritual home" of Santa Barbara and being some kind of woman about town.
Not bad, Ms. Smith, not bad at all. Those of us who are never going to win beauty contests could do a lot worse. But I seriously doubt we'll get the random posthumous tribute treatment earned here by you and your killer smile.